Safari River Outfitter's success can be attributed to the hard work of the property manager, guides, and other staff members all working together as a team. Through this team, our clients, from arrival to departure, will have an experience unlike any other in Canada.
The History of Goose Haven
Goose Haven Canada Outfitters has been in operation for over 20 years.
Nearly a decade ago, at age 25, Lance Robinson, was asked by a friend to guide duck and goose hunts in Saskatchewan at Goose Haven Canada. Lance developed an extreme passion for waterfowl guiding and proved to be successful, season after season. Several years later, the opportunity presented itself to purchase the business from former owners Scott Erickson and Lynn Holtet-Erickson. In searching for a new location for Goose Haven Canada, Safari River Outfitters was discovered as the perfect home and the two businesses now operate simultaneously under one roof. We know you will agree this truly is 'Goose Haven' as you pull into our drive and discover for yourself, all the birds flying over and landing in the water of the dike.
The History of Safari River
Safari River Outfitters has been in operation for over 20 years.
The first Outfitting operation was managed by Barry Sampson. Barry sold his business and land to several investors and the lodge was then managed by Allan and Evelyn Shkopich. In searching for a new location for Goose Haven Canada, Safari River Outfitters was discovered as the perfect home for the two businesses that now operate together. We are proud to carry on the reputation Safari River Outfitters has as a first class destination for trophy whitetail deer hunts, monster black bears, and world class waterfowl hunting in Saskatchewan.
Meet the Staff
Lance & Emily Robinson
Owner/Operations Manager & Outfitting Business Coordinator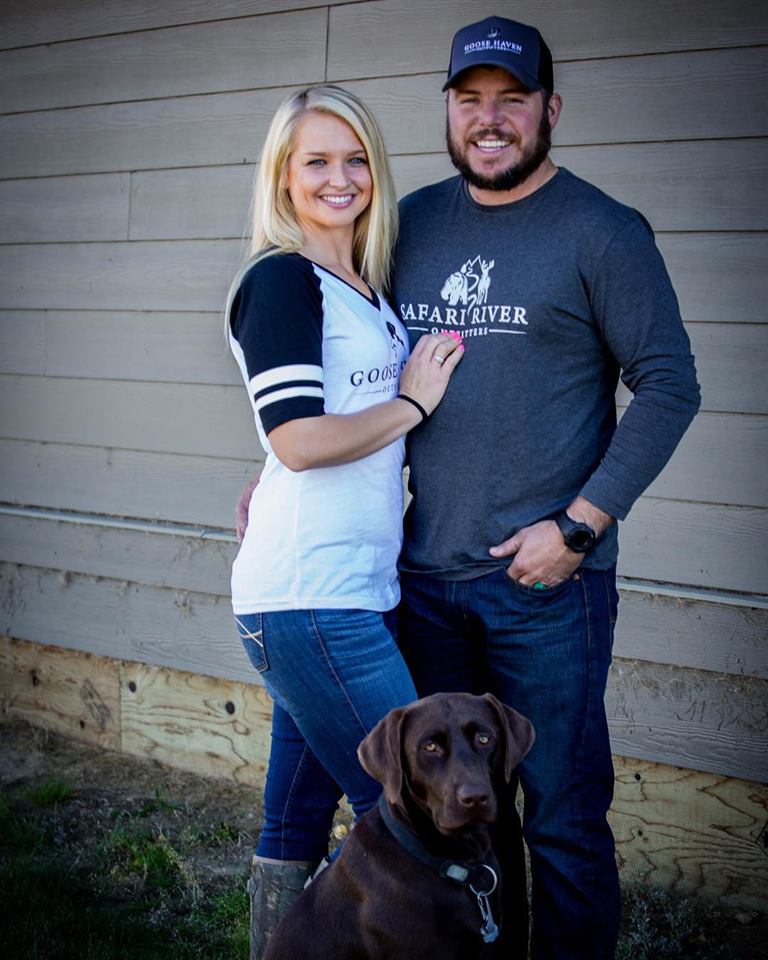 Lance has over 10 years of professional guiding and outfitting experience.  He is a registered Maine Guide and holds his Captain's License through the US Coast Guard.  He is a certified Wilderness First Responder.  He has guided and participated in waterfowl, bear, deer, turkey, wild hog, alligator, moose, grouse, sea duck, ice fishing and open water fishing trips, carrying on his passion for the outdoors, which was handed down from his father and grandfather.
Emily has an undergraduate degree in Architecture & Civil Engineering, General Studies and Construction Management and earned her Masters in Leadership from the University of Southern Maine this Fall. Emily is also a volunteer firefighter. She traded in her high heels and business suits to join Lance in the Safari River/Goose Haven journey. They were married in June 2017.
Craig Wheeler
Executive Chef
Craig Wheeler has years of experience as a chef in several outfitting lodges and previously as an executive chef and owner of a restaurant in Southern Canada. His culinary expertise and delicious dishes will have you asking for his recipes and wanting to take him home!
Morley Dull
Canadian Director
Morley is from Meadow Lake, Saskatchewan and has been involved with Goose Haven for several years.  Morley's passion is everything outdoors. His favorite is fishing but he helps with all guided hunts here at Safari River/Goose Haven.
THE GUIDES
Henri Lazar
Cooper Link
Ashton McIntyre

Finding deer, bear and birds is one thing.  Putting a hunter within range of a mature buck or monster bear is another. Our guides are experienced hunters themselves.  Our guides have over 75 years of combined hunting experience. Long before your arrival in camp, our guides are spotting fields, exploring new areas, putting up new blinds, running cameras and cutting shooting lanes.  They will be working even harder while you are hunting.  They are checking the wind, continuously checking cameras and bait stations, re-checking the wind and finally, professionally taking care of your trophy once it is harvested.
Partners in the Outdoors